BioRegistrator® is the proven platform for registration of digital identities. The product can be used as enrolment tool (i.e. capturing of biometric characteristics and personal information), for identification and verification purposes. BioRegistrator® makes deployment of biometric technology accessible for all kinds of organisations.
Use of this standard product saves customers development costs, reduces the time to deploy biometric technologies and creates an independent platform for biometric suppliers.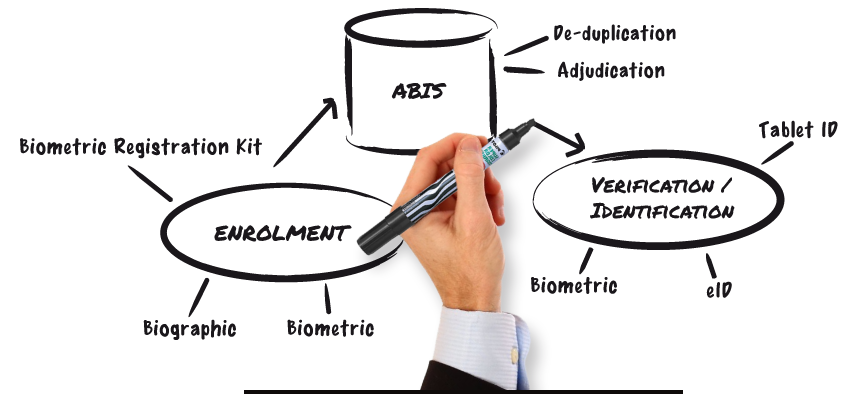 The product has been proven in combination with several biometric technologies, like fingerprint, face, iris, voice, and DNA recognition. Quality-measurement tools are integrated to enable automatic capturing. International standards are used for storage and exchange of biometric templates and images (e.g. NIST), to allow connection to any biometric database (AFIS, ABIS). It is independent from the supplier of the biometric matching algorithm, allowing the best technology to be selected for each case.
BioRegistrator® is deployed worldwide in large-scale biometric systems.
ENROLMENT
The key to a successful biometric implementation is the registration phase. The better the quality of the registered biometric information, the better the matching results. SecureQlik has gained extensive experience with the enrolment of people, developing and improving the BioRegistrator® Enrolment software product over many years. The result is an innovative and proven enrolment platform. Read more…
SecureQlik ABIS
SecureQlik ABIS is a next generation, multi-modal Automated Biometric Identification System. It serves as a storage and matching platform, to collect and search all kinds of biometric and personal data. It is part of the BioRegistrator® product suite. SecureQlik ABIS is a flexible, open system with several innovations. It is used for verification, identification, de-duplication and forensic applications. The modern web based user interface makes deployment a breeze. Read more…
VERIFICATION AND IDENTIFICATION
After the registration the unique identity of persons is established by performing verification or identification actions. A verification is a one to one comparison. The person carries their unique ID with him or her and this is verified using biometrics, resulting in a yes/match or no-match. The unique ID can be a number or code, but can also include a biometric template, stored on e.g. a smart card. An identification is a one to many comparison. Read more…